-20%
Misty Wedding E-Invitation : Embrace Tradition with a Modern Twist
₹2,499.00
Experience the charm of a misty wedding with our mesmerizing E-invitation. Featuring a captivating mandala at the center and graceful elephants adorning the sides, this digital invite blends tradition and modernity seamlessly.
✅ Standard package includes Opening Slide, Wedding Slide, and RSVP Slide.
✅ Option for additional event slides.
✅ Add extra details to each slide, including custom/generic caricatures, Names, Date, Address, and music choice.
✅ Option to remove video branding.
Guaranteed safe checkout
Free Delivery
Genuine Quality
Free Returns
Not just a gift, but a symbol of love to be cherished
Description
Description
Step into the enchanting world of misty weddings with our captivating E-invitation. This digital masterpiece beautifully combines tradition and modernity, making it the perfect choice for your special day.
At the heart of this E-invitation lies a mesmerizing mandala, symbolizing unity and beauty. Graceful elephants stand proudly on the sides, adding a touch of regal elegance to the invite. It's a digital creation that truly resembles the most beautiful traditional invitations, bringing an air of grandeur to your wedding preparations.
But that's not all – our E-invitation is a canvas of vibrant colors, with themes designed for every function of your wedding journey. Whether it's the colorful mehndi ceremony or the serene sangeet night, this invitation has the perfect theme to match the mood of each event.
What sets our E-invitation apart is its smooth and captivating animations. Every detail has been meticulously crafted to ensure a visually stunning experience for your guests. It's not just an invitation; it's a piece of art that will leave a lasting impression.
As you embark on this beautiful journey, make sure to share the magic of your misty wedding with our E-invitation. It's the digital invitation that blends tradition, elegance, and modernity effortlessly. Discover the themes, explore the animations, and create memories that will last a lifetime.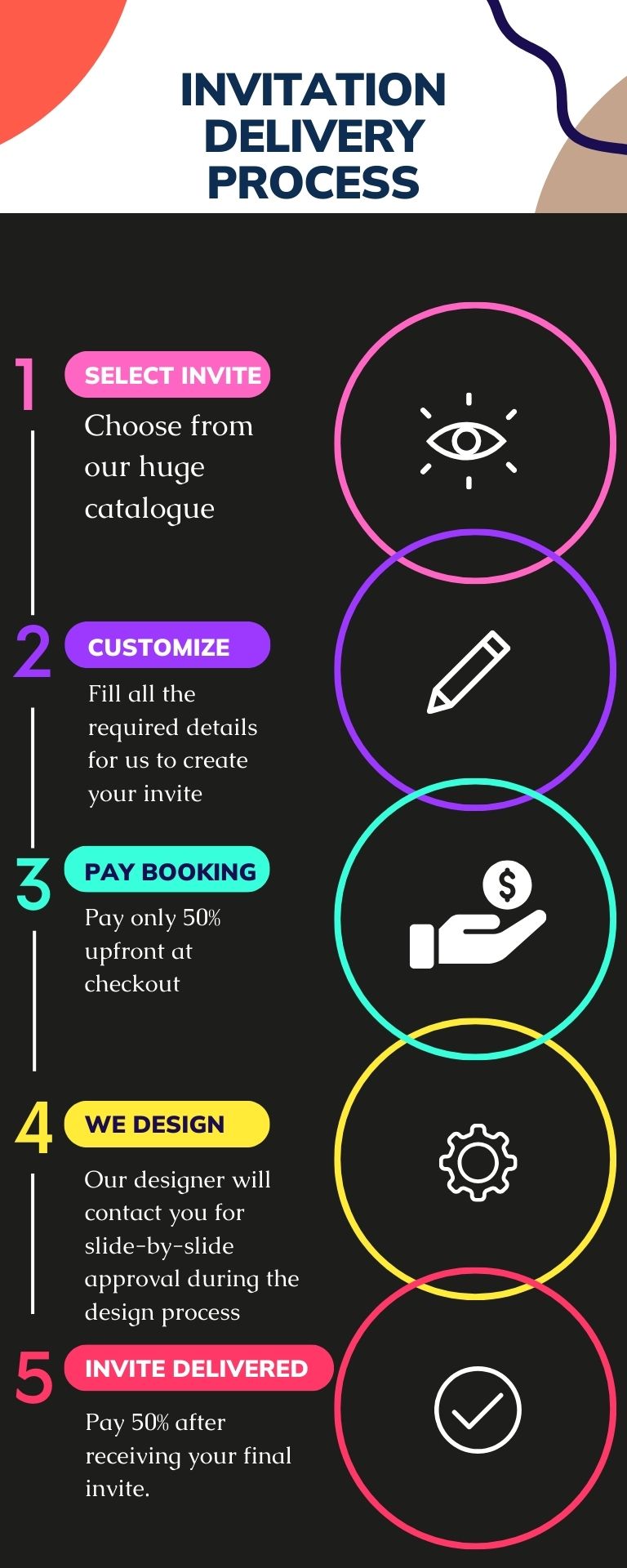 Need custom features? Chat with us.
Our custom design charges are ₹ 2000 / hr
Click below to book a ₹499 consultation for wedding invites.
The consultation fee is credited towards your invite purchase
Book Appointment
Available Offers
Wedding Invitations
We currently do not have any specific discounts for Wedding Invitations
You can create an account and get a 10% discount for storewide purchase
Jewelry
Create an account here and get an instant 10% store-wide discount
Buy any two jewelry products and get a 15% discount on jewelry. Discount auto-applied in cart.
Buy > 2 jewelry products, and get a 25% discount on those. Discount auto-applied in cart.
Wallpapers
We currently do not have any specific discounts for wallpapers
You can create an account and get a 10% discount for storewide purchase
Shipping and Return
Wedding Invitations
Digital Wedding Invitations DO NOT have any associated shipping fee, as they are delivered digitally.
Fashion Jewelry and Wallpapers
Shipping all over India is free.
We may add ₹ 50 as shipping in case or COD orders below ₹ 299
View the complete policy here
Return and Retund Policy
Wedding Invitations
Wedding Invitations booking payment is 100% refundable if requested before the designer shares the 1st draft.
You are also eligible for 100% refund if not satisfied with invitekaro response times
Fashion Jewelry
You are eligible for a question-asked return within seven days of receiving the product.
The pickup and return cost will be borne by us, the company.
View the complete policy here
Wallpaper
As wallpaper for walls is consumable, they aren't returnable or refundable. 
Hence we encourage users to order only 1 quantity of the design they like instead of buying in bulk for the 1st time.
FAQ